The History Of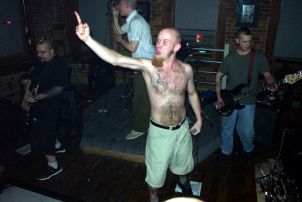 As told by Archibald "Arch Deluxe" William Wertz III
The Homeowners formed in 1993. People would ask us, and still ask us to this day what the meaning of the name was. The truth is nothing. We just thought of the most ridiculous name for a punk/hardcore band that we could think of and let it roll. It made all of us laugh whenever we heard the name, saw it on a flyer, or told someone what band we were in.
The original lineup lasted from 1993–1997. In 2002 Mike, Shawn, and I decided to get together and start things up again. We asked Dave if he would join on and he agreed. We knew that this would be great, because Dave was the shit and just as crazy as the rest of us, if not crazier. So we practiced with a bunch of drummers and couldn't find the missing piece of the Homeowner pie.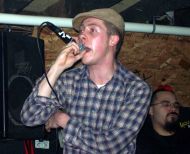 We heard that an old friend, Mark, was moving back in the area from Florida and persuaded him into rocking out. We all clicked immediately. We recorded our first record (S/T) within the first 4 months and put it out on Mike's label "Artillery House." In 2003 we recorded our second record "Second Strike." In late 2003 we recorded about 9 songs for a third record and never got back in to finish mixing before we decided to end the band.
The second lineup lasted from 2002–2004. This was by far the most productive and creative incarnation of the band and the lineup that everyone remembers whenever The Homeowners are mentioned. We played a shitload of shows, got high with our friends, got drunk with our friends, got to see a lot of good bands and made a lot of new friends. Every show was a fucking party to us.
Video Performances
"Intentions" filmed in August 2002 at an open mic night at the Grog and Tankard in NW DC.
"John" filmed at Hal Daddys in Baltimore, MD on October 19th, 2002